QuoJob for web companies
#1 Business Software for web companies, webdesign offices and online presence specialists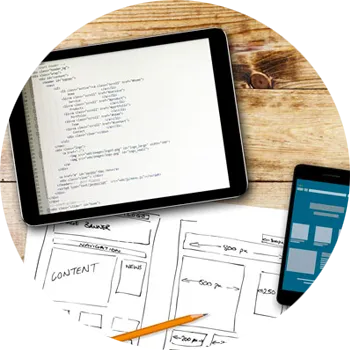 QuoJob for web companies
Numerous happy users from Belgium, the Netherlands and Luxembourg prove on a daily basis that QuoJob best fits the administrative needs of a web company. When deadlines, profitability or creativity are jeopardised by management or administration issues, we have a real problem. QuoJob centralises all data of your customers, suppliers, staff and projects. It allows you to closely monitor all administrative processes. Offline as well as online!
Learn how companies in your sector deploy the application's other user-friendly features. These include relationship management, planning, delivery and invoicing which all seamlessly work together.
Offer calculation for web companies
Clear pre-calculation ensures transparency for you and your customer. To gain understanding of how many hours and materials can or may be dedicated to one job, you can use pre-calculation. Pre-calculation enables you to draw up schedules and correct quotations. As such, pre-calculation produces forecasts in terms of margins and time dedication.
The quotation for the customer ideally complies with the corporate identity of your company, contains all legal elements and is attractive. QuoJob also provides the possibility to save 'the most frequently used option' in default settings. Upon approval by the customer, the quotation is translated into an order which is delivered to the customer by means of order confirmation.
Creditsafe
By providing reliable information about any company in the world, Creditsafe supports large or small businesses in optimizing their commercial activities and minimizing their credit risks. Over 200.000 users and 90.000 customers worldwide trust our information for the 450.000 business decisions taken on a daily basis. With over 240 million business reports online and instantly available across more than 70 countries, Creditsafe is the most used supplier of business information.

Business Software for other segments