E-calculator wins EDP award
11 Dec 2020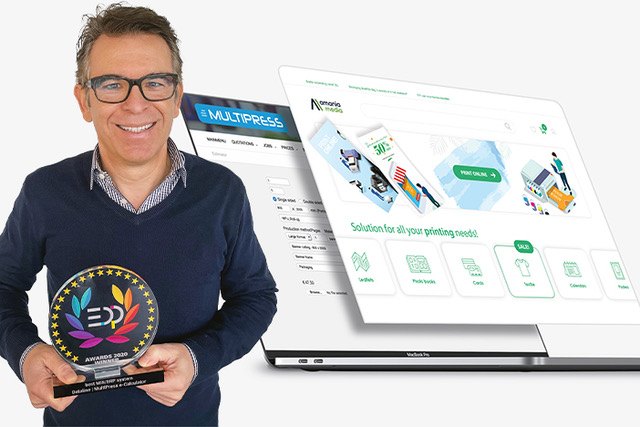 Every year, a consortium of European trade magazines from the graphic industry presents the 'European Digital Press' (EDP) Awards. And for the second year in a row, MultiPress wins an EDP award as best MIS/ERP system. In 2019, the MultiPress Installation App already received the honor, this year the innovative MultiPress e-calculator was awarded.
MultiPress e-calculator: online business with dynamic data.
With the MultiPress e-calculator module, the approach to e-commerce in the printing sector is changing dramatically. The boost in e-commerce platforms for printing requires more advanced solutions. Instead of a static online price list, the e-calculator opts for a completely dynamic approach.
Based on up-to-date information on all variables in the complete production process, the user is offered the most efficient production method, delivery time and the most current price immediately and without any further intervention.
The e-calculator therefore adds the power of MultiPress' dynamic price calculator to any e-commerce solution and thus automates online print orders.
In turn, the print provider is assured that e-commerce promises are kept, as price and delivery times are based on current data in the MIS/ERP system. In addition, by using intelligent algorithms within MultiPress with offers and campaigns, fluctuations in production capacity or material prices can be anticipated.
The workflow from order to delivery is fully integrated and automated.
Thus, after order confirmation, the entire workflow - from delivery to invoicing follow-up - is handled fully automatically and without time-consuming intermediate stops. 
Dataline deploys this unique processing power of MultiPress via web portals or third party APIs. The MultiPress e-calculator integrates seamlessly with most existing e-commerce solutions on the market (Prestashop, Magento, Prindustry, Woocommerce, Pressero, etc.). This allows both end customers (B2B or B2C) and print production companies to take full advantage of the advanced and lucrative opportunities that e-commerce has to offer.

E-commerce for your print business?
Online sales are ideal for standard products, that's the perception. And graphic companies often offer customised products, which made the switch to online ordering platforms difficult. But by linking the powerful MultiPress calculation module with existing webshop platforms, there are now no more obstacles to making e-commerce efficient and profitable in your print production company. After all, from now on, MultiPress' computing power steers your webshop, creating a wide range of possibilities.
Moreover, online ordering not only attracts new customers. Existing customers who place orders through your webshop also make the administrative processing a lot lighter. After all, you no longer need to invest time in the layout and follow-up of quotations or the follow-up of print files. MultiPress does that for you.
In addition, there are various possibilities for the technical set-up within MultiPress. From simple web portals to online editing and follow-up tools to the fully equipped e-calculator.
The starting point is always that expanding e-commerce with MIS integration creates a dynamic environment that gives your printing company wings.
---
MultiPress e-calculator cases