FESPA Africa, are you ready for MultiPress? Because we are…
Wed, 09/05/2018 - 15:21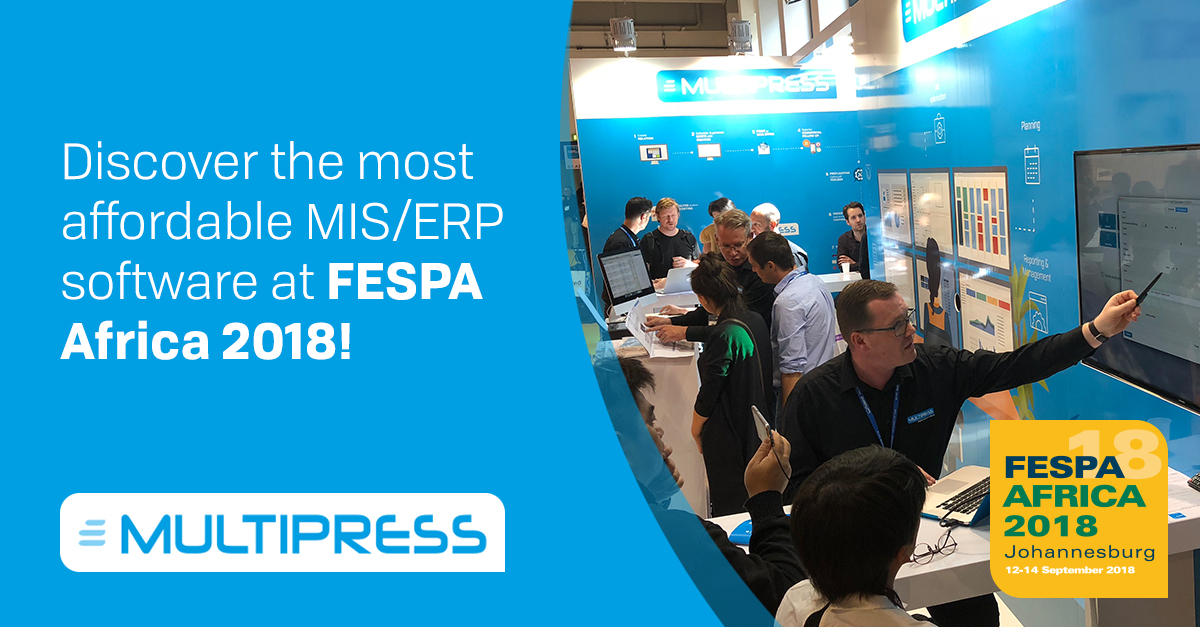 In Europe, when it comes to sign, large and wide format printing, there's one name on everyone's lips: MultiPress! Will the African printing industry be won over as quickly? For the very first time, Dataline Solutions is ready to expand outside of Europe and explore new developing countries and regions.
Given the South African market's increasing interest in Dataline, we have decided to attend FESPA Africa in September 2018. This exhibition is an ideal way to meet and connect with over 6,000 industry professionals who attend to see the latest developments in technology, equipment, solutions and software for themselves.
How do you calculate quotes, exact prices and margins for large and wide format printing jobs? Do you manage the different phases of the production process using separate systems or even manually? And what about CRM, proofing, planning, real-time production tracking, stock management, invoicing and reporting?
Tailormade software for large & wide format printing
MultiPress, Dataline's administration business software (ERP/MIS) was developed for the large format printing and sign production industries. It integrates all administrative, commercial, financial and logistic business processes. MultiPress also integrates seamlessly with third-party solutions for production workflow, accounting, etc. and can share information automatically. 
It's a powerful tool which enables users to accurately calculate costs, provide quotes, schedule production, manage stock and control their production status in real time. And unlike other MIS and ERP programs, MultiPress has been designed and developed with a focus on the requirements of the large and wide format print industries.
Caldera linked with MultiPress
At FESPA Africa, we will exclusively demonstrate the added value of using Caldera with MultiPress. "MultiPress is just the beginning of the story," says Dataline's Business & Sales Development Manager EMEA, Serge Clauss. "It has a CRM function covering quoting, order confirmation, invoicing, stock management and planning – and it complements Caldera RIP software. The added value of users having a fully integrated system can't be underestimated – it provides a link between sales and production, creating an automated flow for faster processes with fewer human errors."
Experience the latest innovations.
Visit the Midcomp booth at FESPA Africa and experience the latest innovations in administration business software for yourself:
Centralised data in one CRM
Interactive automated planning
Flexible & accurate price calculations
Automated checks & repairs of PDF files
Generate your quotes in less than a minute with our Calculation Wizard
Optimise your costs via the integrated nesting and tiling module
Manage your material consumption via our control panel
View precise post-production reports
See a comprehensive performance overview via our advanced dashboard
Clear links between price calculations and finishing
We have a brand NEW web-based registration app, designed especially for registration while on the move: mobile employees can easily see the schedule for different jobs in the right order. It also includes a start/stop timer and photos of the finished product.
Let's meet at FESPA Africa
Are you 1 of the 6,000 industry professionals set to attend FESPA Africa in Johannesburg? We'd love to see you at the Midcomp booth, our host for this year's FESPA Africa.