How to save up to 30% on your company's operating costs?
Wed, 04/01/2020 - 12:04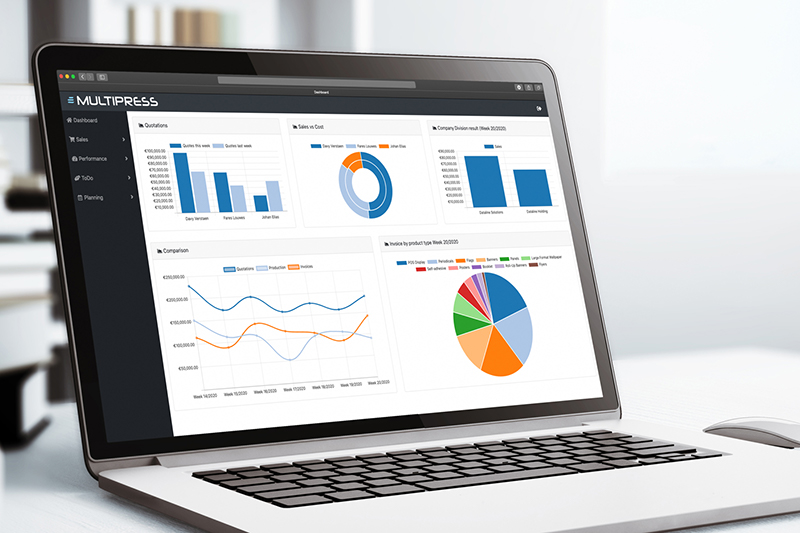 by Serge Clauss, Business & Sales Development Manager EMEA

At Dataline Solutions, we know that it's increasingly difficult to generate profit on ink and paper. So, because we understand that the business processes are becoming more complex, we developed a unique audit tool. This specific piece of software will not only analyze your current way of working to determine how effective and efficient your company is today. It will also provide you with an advanced and specific report on how much time and money you can save in optimizing your company processes.
"100 % successful implementation. Guaranteed!"

The MAS Audit software has been developed by Dataline Solutions to conduct a review of printing companies' performances by evaluating all aspects of their organization. With all the MultiPress expertise documented and combined in the MAS, this particular tool collects all the critical and relevant data of every process in a print production company. Based on the answers, the MAS algorithms detect patterns that can be linked to existing installations and comparable situations. The outcome is a very specific, calculated improvement plan that can cover the entire workflow of the audited company. And it includes a dedicated implementation plan!
 Evaluate your current practices and processes

Provide crucial insights into your overall way of working by analyzing the efficiency of your:

CRM
calculation method
sales information system
prepress workflow
planning
purchasing & stock management
production tracking
customer interaction
invoicing
payments
onsite installations
…
The MAS also analyses the relevance of your reports (KPIs), the interaction with your web2print solution, etc.
 Get dedicated reports

The report will address certain key points in your company, with detailed observations and findings but also recommendations, action plans and a roadmap. It will clearly express the amount of time and money you could save by applying said recommendations.
Our Audit Report can also be used as a tool to promote the optimization of resources. It will help to point out the areas in which resources and capabilities are being underutilized. Therefore helping to control the costs and expenses of your company.
 

 Boost your management efficiency

One of the biggest benefits of the MAS is that it facilitates more effective management of an organization. Our MultiPress auditor will be able to point out any shortcomings of the organization in the operations of the company. By taking the correct actions, you will increase your chances of achieving your And improve your organization's workflows.
 

 Monitor your productivity increase

Our specialists will guide you during the audit and the implementation of MultiPress in your company. Once the setup phase is done, you will start to see the benefits of MultiPress for your business. A post-installation audit can be planned to effectively measure the added value of the solution.
"Increase profits and maintain growth by optimizing processes"
MultiPress is able to significantly improve current process times. The MAS Blueprint (report) is our commitment to the success of a MultiPress implementation. We call it the "Act of Trust". There is no better guarantee than to ensure a real increase in productivity. Don't think of your ERP in terms of costs but in terms of benefits and profitability for the company. 
Your benefits
Evaluate your current processes and compare it to the optimized versions
Get a detailed and tailor-made report
Get our advice on required options, don't pay for unnecessary tools
Ensure an effective and successful implementation
During this troubled period Dataline Solutions offers you the possibility to get a free online audit by our specialists. Save 2.400 euro and ask for your remote audit now.
Dataline can assist you in this process. With over 1.000 successful MultiPress ERP installations throughout Europe in the last 20+ years, we've gained an incredible amount of customer insight and business know-how that we can apply to your business. With our innovative and unique audit tools, we help you evaluate your current situation and provide you with solutions adapted to your specific needs. Our detailed audit report provides you with an accurate analysis of your current situation and, most importantly, a precise calculation of the potential gains you could achieve by implementing various MultiPress functions. The report comes with clear recommendations for quick wins, implementation planning and a transition roadmap.