Will MultiPress also charm South African graphics businesses?
Tue, 09/25/2018 - 13:35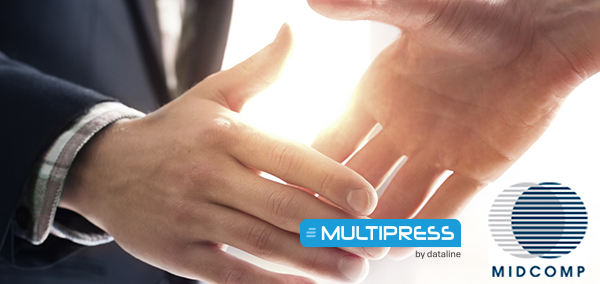 Anyone talking about 'sign, large and wide format printing' in Europe, thinks MultiPress! But will Dataline gain a foothold in South Africa as well? Are they ready for MultiPress? Last week, Davy Verstaen and Serge Clauss boarded a plane to FESPA Africa in Johannesburg to check the situation.
Dataline was a guest on the stand hosted by the South African company Midcomp. Midcomp has built a very sound reputation on the African market where they are considered "the experts." For more than 24 years, they been representing all the major brands of digital & finishing machines such as HP, Gerber, Zünd, Summa, Kala, Barbieri, Fotaba, Direct Color Systems, Océ, PLASTGrommet, Polygon, Caldera, Onyx, and Anajet. Not only that, they also provide comprehensive services and full support to their clients. 
MultiPress is the only ERP/MIS system, selected by Midcomp
A sound ERP/MIS system such as MultiPress, specially developed for the graphics industry would fit well into this. By the way, any brand introduced by Midcomp has an immediate advantage. Moreover, the fact that Midcomp recommends MultiPress is indeed an achievement in itself. Many ERP/MIS suppliers want to collaborate with Midcomp, but so far, no software has ever made it through the selection procedure.
MultiPress demos were the decisive factor
Dataline was given its own MultiPress corner on Midcomp's stand. Sure enough, this first collaboration turned out to be a success. Clients who 'tested' MultiPress on the stand were all enthusiastic. This positive reception at Midcomp did not fall on deaf ears. Dataline returned from South Africa with some excellent agreements.
Midcomp recently opened the doors of their brand-new demo centre where, in addition to printing machines, they will soon also display MultiPress to their (potential) clients.

Many new contacts and enthusiastic reactions

A new partnership with Midcomp  
MultiPress/Dataline could not have wished for a better introduction to the African market. So, Dataline's ambitions extend beyond Europe. Of course, Dataline will remain true to its home base and will continue to be the cornerstone of 75% of all graphics & printing businesses in the Benelux.