Automation of the highest level at Creapack
Founded by Ronny Lefevere in 1988, Creapack embodies more than 30 years of experience and knowledge. The West-Flemish company produces displays and point-of-sale material for fast-moving consumer goods, the pharmaceutical sector and retail customers. With high efficiency and excellent service, high-quality production and administration must be on the same automated line. Jessica Lefevere (Managing Director) and Kris Debosschere (COO and R&D Manager) explain why choosing MultiPress was necessary and how, among other things, they said goodbye to unnecessary double input, too many inefficiencies and much more.
Growth and ambition surpassed the old package
When your old MIS package no longer supports the growth and ambition of your print media company, and has more pain points than benefits, it is time to look for a better solution. This was the case at Creapack when their tailor-made package (Cobol and UNIX) had some obvious pain points:
too many double entries
too many inefficiencies
no overview from A to Z in the workflow
little or no transparency between the administrative staff and the production staff
calculation did not always go smoothly
sending quotations by e-mail with the same layout and uniformity was not obvious
The choice for MultiPress was made quickly and not only because MultiPress is the leading MIS/ERP package in the industry. Comparable and renowned competitors such as Kartonnage Mels, Hellyn and Van de Velde Packaging are loyal users of the business software designed by Dataline.
Dashboard module for insight, web module for clients
Jessica Lefevere, managing director of Creapack, talks about the MultiPress dashboard module: "I use it on the one hand to monitor the turnover and the margins, and on the other hand to follow up on the visits from salespeople in the reports. We develop these dashboards continuously. As soon as we have an internal question such as "What is the profitability of this product, according to production categories or according to portfolios of sales representatives?", we create a new dashboard for it." Especially the flexibility and user-friendliness allow dashboards to be deployed company-wide, quickly and easily. Not only do managers benefit from an overview of the workflow, but it also improves transparency among the employees themselves.
Besides the successful dashboards, the web module is part of Creapack's MultiPress set-up as well. "In this case, the web module was set up for a few large customers", says Kris Debosschere, COO and R&D manager: "Because we have a very short delivery time of sometimes a few days, our customers must be able to order from different countries, they must be able to see the stock and they must also be able to see the real-time stock".
Smooth production thanks to the planning module and the folder structure
Production at Creapack is fully controlled by the planning module in MultiPress. First, the delivery date is automatically determined from the order, after which planning goes backwards and automatically checks whether the machines are available. In addition, the folder structure has contributed to a better and more centralised way of working. Whereas previously files relating to a particular order were stored in different places without any structure, the folder structure ensures a clear and uniform way of working. Cover forms, calculations, printing files, etc. are now stored in one folder under the order or calculation number. This ensures that everyone now has quick and easy access to every order, and the way of working has been optimised.
Jessica summarises the added value of MultiPress as follows: "Since we have been using MultiPress, the quotations have gone out much more smoothly and we can respond to customers much more quickly. The system is much more flexible because it uses a relational database, whereas we used to work in silos. The information is now available everywhere. Monitoring is easier because as a manager, you also get insight into your processes and can improve them." A valuable bit of advice!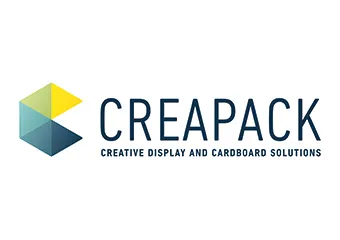 Company details
Creapack was founded in 1988 and now stands for more than 30 years of experience and knowledge. The Flemish company produces displays and point-of-sale material for fast-moving consumer goods, the pharmaceutical sector and retail customers.
Related links