Multicopy Alphen aan den Rijn & Zoetermeer
13 years ago, Brigitte Van Etten took over Multicopy Alphen aan den Rijn from her parents, who had run the business for 25 years. A few years later, Brigitte also took over Multicopy Zoetermeer to expand her services. She now offers large format, digital and offset print services! With an expansion of locations, products and people, it was inevitable that she would need a software expansion as well to support business growth! With a view to quicker offers and invoicing, a link with their accounting package and a more efficient distribution of jobs, Brigitte looked for the solution at Dataline and adopted its MIS/ERP software MultiPress!
Looking for time savings and efficiency
With the successful growth at Multicopy Alphen aan den Rijn and Multicopy Zoetermeer, plus the addition of extra services to the order package, Brigitte came across more and more shortcomings with her previous software package. In particular the large format and signage jobs were not catered for. She often had to revert back to manual input as there were no links set up for these latest processes with her existing accounting system and digital invoicing was not possible. Also, the teams at both branches did not find the previous software easy to use, which meant that many tasks ended up back in the hands of the manager.
Since MultiPress has been added to the daily workflow, the teams at both branches are now working efficiently and Brigitte can count on a better distribution of jobs in both companies. No longer are tasks passed back to her. Her staff are all comfortable creating orders by themselves. Moreover, invoices are now exported directly into the accounting programme, which ensures a direct flow of payments.
"It is now a joy to close my accounts!"
After a few months as users of MultiPress, the employees at MulIticopy Alphen aan den Rijn and Multicopy Zoetermeer are fully convinced of the added value of their new software package. Brigitte Van Etten says: "It has actually become almost a party when I close my accounts at the end of the month. I no longer have to be at my branch on the last day. Using MultiPress is a win-win for me and all my staff!!
MultiPress is highly recommended
"I would definitely advise other graphic entrepreneurs to consider choosing MultiPress. This clever admin software will certainly create much more efficiency, bringing speed, ease of use and staff satisfaction to your company - what could be better?" concludes Brigitte Van Etten.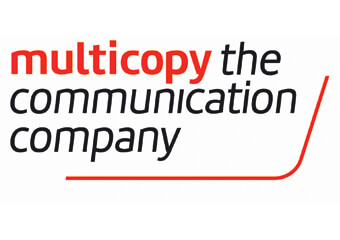 Company details
Multicopy Zoetermeer and Multicopy Alphen aan den Rijn are both headed by Brigitte Van Etten. With both branches, the Dutch team succeeds in offering large format, offset and digital printing.
Related links