Dataline continues European growth with the acquisition of software company Insad Grafisch (Netherlands).
11 Jan 2021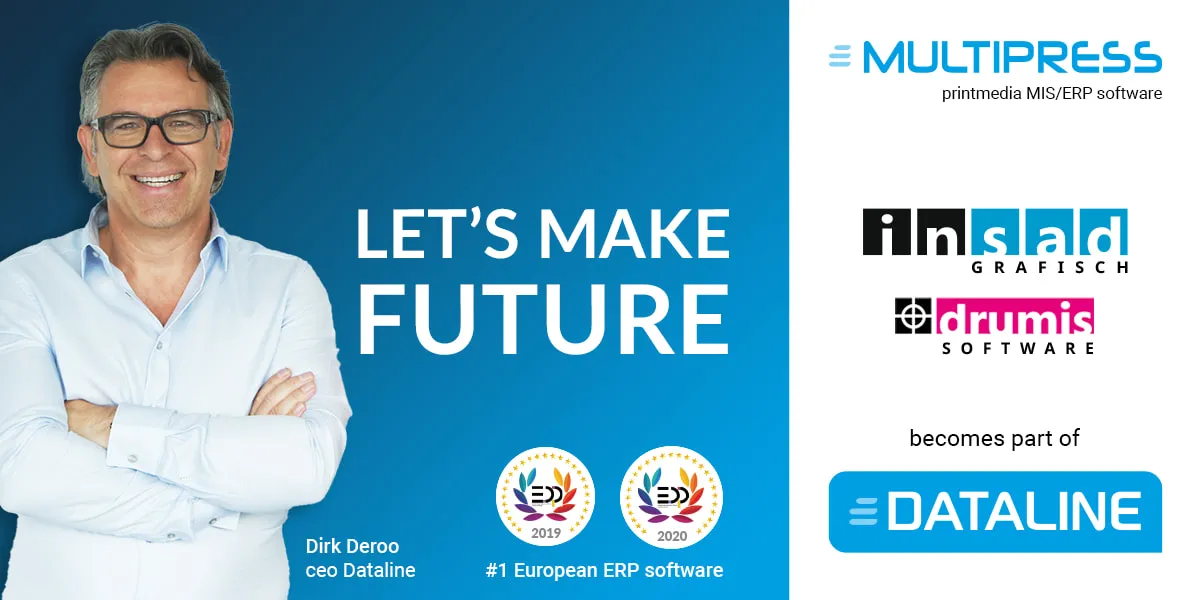 At the end of 2020 Dataline successfully finalised the acquisition of Dutch company Insad Grafisch. Insad Grafisch is an industry partner of Dataline and developer of the Drumis software that is used by many Dutch print media companies and graphic intermediaries. Dataline, the developer and supplier of MultiPress ERP/MIS software for the print media industry, further strengthens its leading position in the Dutch market, and continues its European growth. 
After the decease of Insad founder Gerard van Helsdingen, there was a need for a strong partner to guarantee the continuity of the company. It was therefore logical to start talking with Dataline. The negotiations led to the acquisition of Insad Grafisch at the end of December 2020, which resulted in the Insad employees, the Drumis software and the customer portfolio becoming part of Dataline.
Dataline will continue to support Drumis software according to the applicable terms and conditions. A migration trajectory, including conversion, training, and service to MultiPress is set up.
Dirk Deroo, ceo of Dataline, is very pleased with this acquisition: 'We are not only adding a valuable customer portfolio to our company, but also a number of experienced specialists in the form of Insad employees. Dataline offers all Drumis users a future perspective of a modern software platform and in-depth knowledge of the print media industry in all its aspects. Dataline has also in 2020 further grown as European market leader'.
European expansion
With the acquisition of Insad and the Drumis customers, Dataline not only significantly expands its leading market position in the Netherlands, but also strengthens its European market share. Today, the organization employs over 60 employees, 1,000 licensees and 10,000 daily MultiPress users in 23 countries.
Deroo: 'Acquisitions fit into our European strategic growth plans. Therefore, in 2021, we will investigate a number of acquisition cases of MIS/ERP software providers in the graphic industry that, like Dataline, have a strong focus on customer satisfaction, product quality, and employ competent and motivated employees.'