MultiPress is now available in Poland. Dataline appoints Integart as its new channel partner.
Wed, 02/12/2020 - 09:26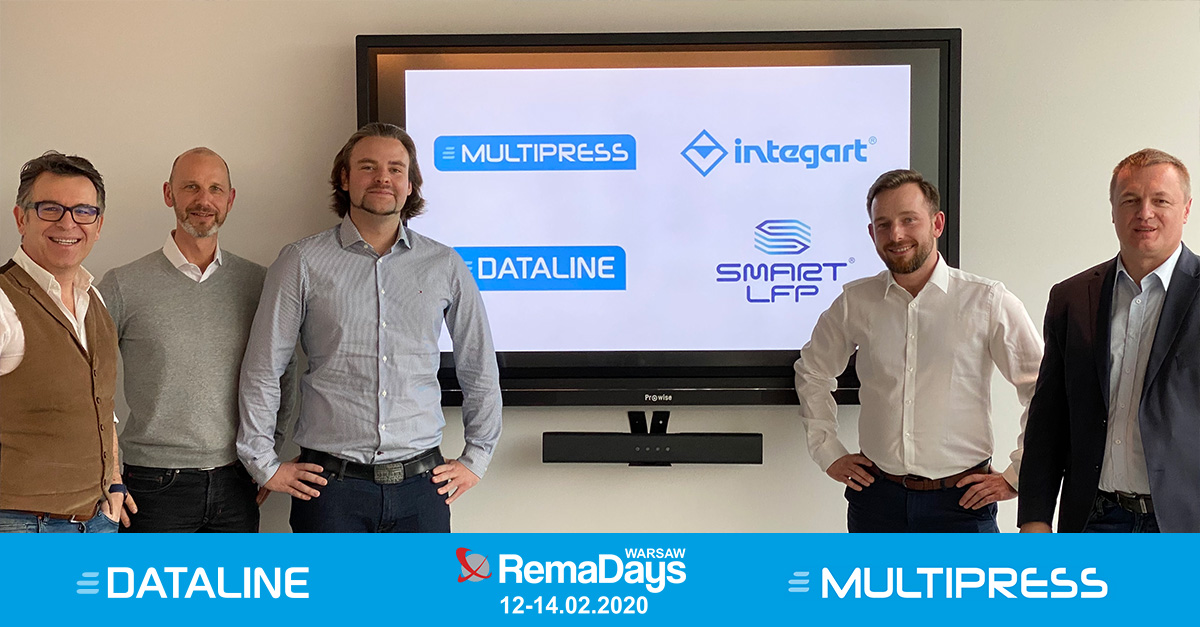 Remadays (Warsaw, 12 – 14 February) will be the first public demonstration of MultiPress MIS/ERP software to the Polish graphic arts industry
Bruges (BE) February 12, 2020 – Dataline, the Belgian producer and supplier of ERP/MIS solutions to the graphic arts industry, is proud to announce it has entered into a new channel partnership in Poland with Integart.
Integart is one of the leading players in the graphic arts industry and a distributor for HP, Zund, 3M and many more products. Their expertise, their drive for innovation and large customer base, make them the perfect partner for Dataline.
Tomasz Melzacki, Sales Director Integart: 'We recognized a strong need for robust MIS/ERP software, specifically with our large format print customers. With Dataline, we have found a rock-solid partner that – with flagship MultiPress – has proven itself on several hundreds of  sites in Europe.'
Dirk Deroo, CEO Dataline: 'Along the lines of our strategy, Dataline is continuing its expansion into Europe, with Poland as the next stop. We are proud to be supported in that effort by one of the most prominent suppliers to the graphic arts industry in Poland.
Interested? Meet us at Remadays in Hall F booth N15 of channel partner Integart, where we will introduce MultiPress MIS/ERP for graphic production companies.
Photo (from left to right):
The Dataline team (left) with Dirk Deroo, CEO, Serge Clauss, International Business Development Manager Large Format and Matthieu Delessard, International Business Development Large Format.
The Integart team with Tomasz Melzacki, Sales Director Integart and Remigiusz Pokuciński, Product Manager.
About Dataline and MultiPress
Dataline Solutions develops ERP business software for dynamic offset, print, finishing, sign, large-format & textile printing companies (MultiPress) and advertising & communication agencies (QuoJob).
MultiPress is an MIS/ERP software solution developed from the needs of the graphics industry that links all administrative, commercial, financial, and logistics processes within the graphics company. It includes a CRM function, quotations, order management, logistics & forwarding management, planning, and invoicing. MultiPress integrates the company's production software and guarantees an automatic information exchange. MultiPress thus forms a fully integratd system by linking administration, sales, and production. It accelerates processes, increases efficiency, eliminates errors, and ensures transparency of all the costs. With more than 8000 users, MultiPress is the standard ERP/MIS software in Belgium and The Netherlands. MultiPress is growing in all of Europe: the software is now used in 19 countries and is available in 11 language versions. For more information, please visit www.dataline.eu.