European Digital Press Awards 2021: Dataline Solutions awarded with two prestigious awards
8 Feb 2022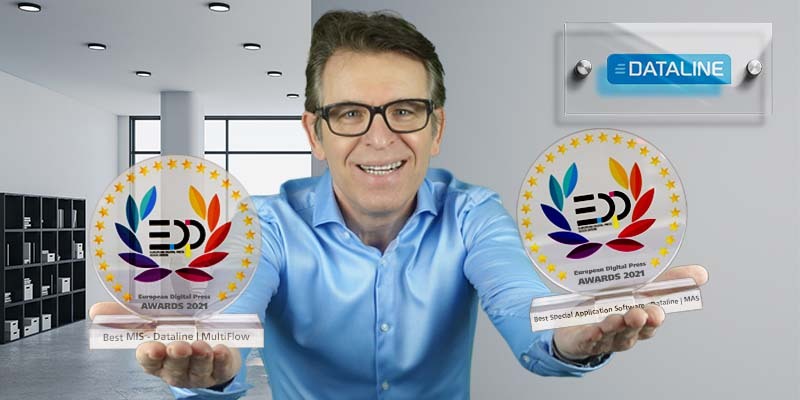 After the success at the European Digital Press Awards of 2019 and 2020, Dataline Solutions takes home not one but two awards this year. Thus, Dataline Solutions reaffirms its leadership position as the most innovative developer of MIS/ERP software for print media companies in Europe.
"Incredibly proud of what we have achieved here as a team"
For the third year in a row, MultiPress from Dataline Solutions receives recognition from the European Digital Press as the best MIS/ERP software for print media companies with two European Digital Press Awards.
The important consortium European Digital Press (EDP) previously awarded Dataline Solutions for the MultiPress Installation App in 2019 and the MultiPress e-Calculator in 2020. So it is the first time that Dataline has won not one but two awards.
Dirk Deroo, CEO of Dataline Solutions, says he's proud of the goals he and his team have achieved: "These European Digital Press Awards are another acknowledgement from the professional field that the mindset and "DNA" within my company works. Our R&D and Innovation team, more than our competitors, is committed to continuous innovation and MultiPress never stands still because of it. We have built up a solid reputation in Europe and continue to grow, even in years of crisis. We are determined to remain the reference of choice because our applications provide our customers with the tools to turn their print media company into a modern, process-driven and highly automated business."
MultiFlow: next-level robotic process automation
The first innovative application from Dataline to win an award this year was MultiFlow. MultiFlow is a robot-controlled process automation (RPA) application launched in 2021. This application was carefully developed, tested and optimised to guarantee its high quality. The application was well-received by MultiPress customers who immediately saw and felt the benefits in their print media businesses.
MultiFlow Demo Movie 
MultiFlow allows you to create your own workflow, or parts of it, in MultiPress in simple and clear flow charts. The graphically represented workflow is then automated based on rules. The limits of the possibilities are explored, without allowing users to get lost in an excess of options. The Dataline R&D and Innovation team has developed an Enfocus Switch, as it were, to automate processes and flows within MultiPress.
The clever selection of about 20 flows provides a versatile and flexible basis for excellent automation of common tasks and processes within MultiPress. MultiFlow is a low-threshold solution: even by automating a series of initially small steps, you still achieve immediate results.
The possibilities of using MultiFlow to turn digital information into automatically performed activities via flowcharts are endless. They only require the creativity of the user - because MultiFlow not only works within the MultiPress environment but also supports combinations with external applications.
As stated by the European Digital Press Technical Committee: "The structure of MultiFlow is already known from a number of packages in the technical workflow. What is new here is the starting point from the administrative environment. The administration is always leading in the execution of orders. It brings the control of the technical workflow back to the MIS package. Dataline's new MultiFlow in MultiPress can offer graphic production companies a future pathway to 'lights out' automation.
MAS Audit Software: crystal clear overview of your (future) investments
The second award-winning software from Dataline Solutions is MAS Audit Software. This software was initially developed with a very practical purpose in mind: there was a clear need for a complete, insightful and independent tool that helps to bring the financial impact of all processes in a print media company into focus.
Using proven algorithms, the software builds an independent and highly detailed analysis for every process and sub-process in a print company. This for every production technique and every administrative process. The purpose of the MAS Audit Software is to support print professionals in the business development of their print media company.
The analysis data are compared with benchmark data that Dataline has collected from more than 1,000 MultiPress installations over the last 25 years. With this big data, Dataline guarantees the accuracy of the analysis. The accuracy of this independent tool is also attracting interest from other major players in the industry.
The MAS Audit Software had its deployment in 2021: both Dataline Business Development experts and independent MAS auditors use the software for business analyses. Based on such analysis, customers receive meticulously prepared ROI calculations for their automation projects with MultiPress MIS/ERP software. Thus, the print media company knows exactly how much time and costs can be monthly saved by further automating their business processes.
According to the Jury of the European Digital Press: "The Dataline MAS Software is an unique tool to audit print poduction companies. It can help to estimate how effective is the print production comparing it with the data collected from many different real print companies. It can also be usedas a tool to choose the most effective means of production when expanding capacity."
Discover the MAS Audit Software
About the European Digital Press Association
The European Digital Press Association was founded in 2007 by 6 magazines with a special focus on digital technologies. The publishers of the 6 trade magazines, Desktop Dialog from Germany, Image Reports from England and Ireland, Italia Publisher from Italy, Plakativ/Print & Publishing from Hungary, ProDigital from Spain and Portugal, Publisher from Switzerland and X-media from Austria met to form an association of magazines with a main editorial focus on digital production. Today the EDP Association has 21 member magazines from all over Europe, covering 27 countries and reaching more than half a million readers (printed editions only). One of the declared goals of the EDP Association is to help users find the right solutions for their applications. Meanwhile, the EDP Awards are highly regarded in the market and are a strong reference point. Each year, experts from the EDP circle evaluate the latest technologies and product developments in categories such as hardware and software, large/wide format printing, commercial printing, industrial solutions, finishing and consumables. The best products in each category are honored with an EDP Award. Since 2007, the EDP has handed over around 390 awards for the best technology and product developments ‐ now 26 awards are being added this year.
Dataline Solutions
Dataline Solutions knows what print media companies need to streamline their processes, automate their workflows and increase their profits. Their high-performance MIS/ERP software MultiPress was developed specifically to meet the needs of modern print media companies of all sizes and production techniques.
Dataline was founded in 1997 by CEO Dirk Deroo. His vision was clear: modernise print production companies with automation, digitalisation and process improvement. The administrative process of a print media company consists of several complex steps, often unique to the printing industry, and less specific software does not help a print media company at all. To meet this need, Dataline developed MultiPress MIS/ERP Software. 
Now, with more than 60 employees in four offices and a network of certified partners across Europe, this leading innovator in the industry has won the trust of more than 1,000 print media companies. The dedicated Dataline team is committed to delivering an outstanding quality of service and is determined to remain the reference of choice. 
MultiPress
MultiPress is the #1 MIS/ERP software in the European printing industry, developed by leading innovator, Dataline Solutions. This powerful software combines all the functionalities needed to manage the administration and workflow of your printing company, overcome obstacles and boost your added value.
This powerful modular management software guides you from A to Z. Customer management, quote calculation, time tracking, production and job management, logistics, cost management, dashboarding and invoicing are just some of the many possible features that save time, resources and money in a print media business.
Dataline has won the trust of more than 10,000 daily users in 1,000 locations. The MultiPress software has not only been praised by its users but has also won European Digital Press awards three years in a row.
Inspired by our winning innovations?
Do you want more information on MultiPress?
Get in touch via the button below!